Thelma (Stevens) Pepper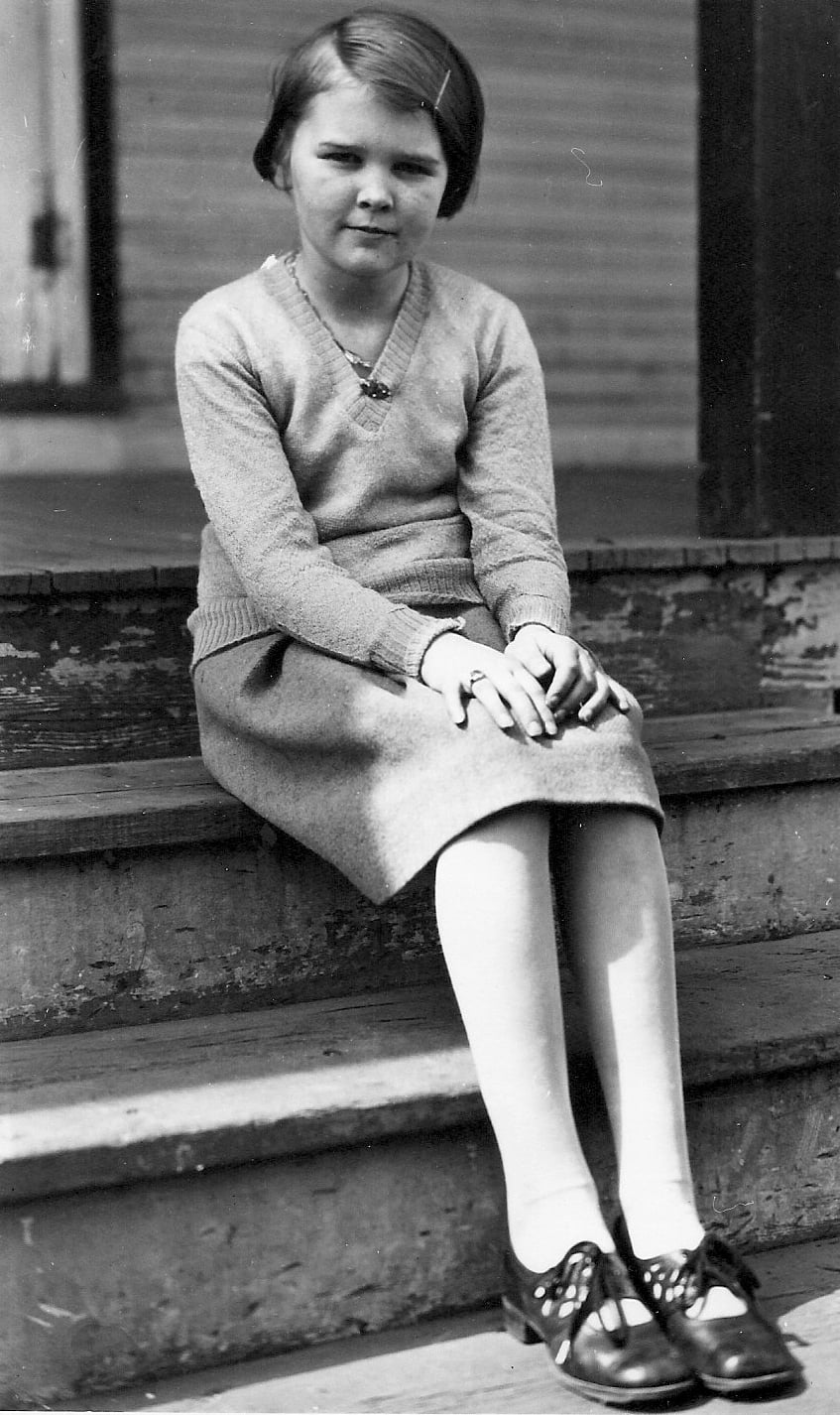 Childhood
Born July 28, 1920, Kingston, N.S. Died Dec. 01, 2020, Saskatoon Saskatchewan. 100 years old.
Parents Operated L.D. Stevens General Store, Kingston, N.S. Grandparents operated S.S. Stevens Lumber Company, Kingston, N.S.
Both Father and Grandfather photographers, naturalists, and historians with major influence.
Education
B.S., Acadia University, Wolfville, N.S., 1941.  (Acadia Entrance Scholarship, Tennis Team)
M.S., McGill University, Montreal, QC (Major: Botany), 1943.
Family
Husband Jim (1920 – 2003) – Professor and Head Organic Chemistry Department, University of Saskatchewan.
Four Children – U of S graduates and varsity athletes.
Volunteer
Strong literacy and creativity advocate – improves personal well-being.
President Brunskill Elementary School Parents Advisory Council.
Created first public-school library in Saskatoon.
Saskatoon TV Panel Member – "Guidance of Children's Reading: Pre-school Through The Fifth Grade"
Dedicated volunteer reader: Hospitals, senior residences, public schools and to the blind.
Key role in developing arts program at Saskatoon's Sherbrooke Community Centre.  Thelma was instrumental in promoting the 'Eden Alternative" with her photography. The 'Eden Alternative' for senior's care stresses that plants, pets, children, companionship, and creativity are as important as pills for treating the elderly. This approach states that dignity and courage reside in everyone, and that the elderly should be treated with this in mind. The Sherbrooke in-house restaurant was named "Pepper's" in honor of Thelma's contribution to Sherbrooke Centre.
Hobbies
Avid sports enthusiast – tennis, curling, skating, hiking, bridge (500 Master Pts.)
Member Saskatoon Natural History Society – Banded Birds under supervision of Dr. Stuart Houston, "Golden Eagles" hiking club and rare bird alert team member.
Saskatchewan Native Plant documentation – over 150 native plants professionally mounted now part of the University of Saskatchewan herbarium.
Stamp collection.
Nova Scotia (1920 to 1945)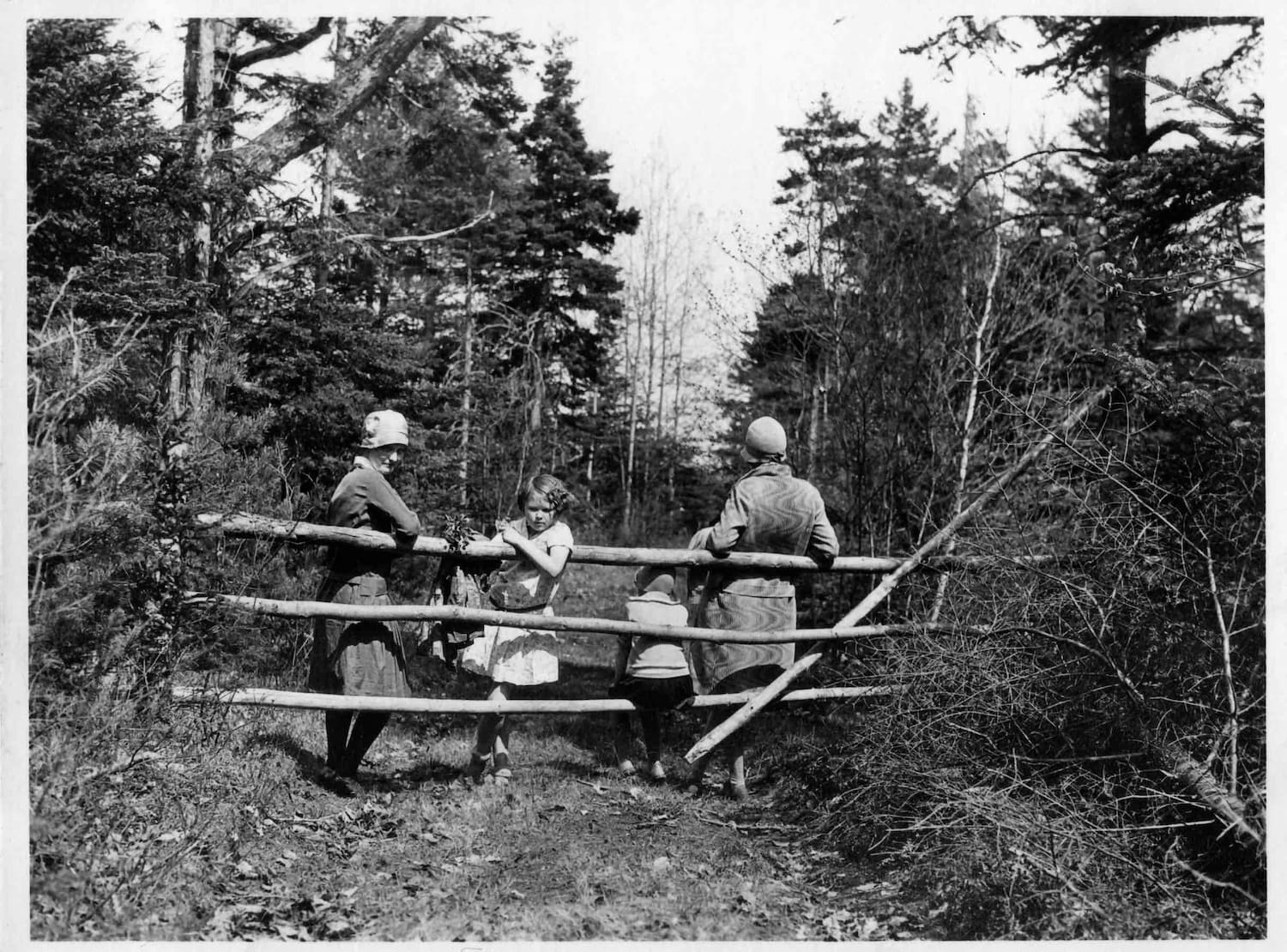 Thelma was born on a very hot day in Kingston in the Annapolis Valley of Nova Scotia on July 28, 1920. Her house in Kingston was a rambling home of 14 rooms with verandahs surrounding the house at both upper and lower levels. Here her brother and two sisters would make mud pies, sit on the hammock to watch the daily trains pass by, prepare vegetables for dinner or just relax on a summer's day. It was a wonderful house to grow up in.
Thelma was strongly influenced by her Mother, Father and Grandfather. Her mother and father ran a general store in Kingston and her Grandfather was a successful lumberman in Kingston.
Her Dad was very supportive of anything she wanted to do, from tennis, to university (when women did not go to university) to travel, but her Dad's biggest impact was his fascination with photography, nature and history. A person that was challenged with anxiety, he was his calmest when he was out travelling in rural areas, looking at historic sights, and taking pictures of others. He was a gifted photograph printer using a bathroom for a darkroom, and he loved to see the happiness in people's faces when he showed them his photographs. Thelma could not help but be influenced by being around him and experiencing his joy in these areas which she revisited once her family left home.
Thelma's mother was strongly influenced by her Christian Puritanism childhood. Extravagance, luxury and too much pleasure were not Christian. Diligence, ceaseless activity, sobriety, thrift, self-discipline, and foresight; however, were decidedly Christian.  She was unpretentious, preferring always to stay in the background. Her favorite expression was 'everything happens for the best.' It was this Christian influence, at an early age, that honed Mom's self-discipline and foresight and ability to take on huge workloads. This was further supported by the prominent role she played in making her parents general store a success. Thelma's Christian background also led to her studies of the Bible to better understand the importance and significance of the human spirit.  From these studies she learned that everyone had a unique intellect, passion and creativity which became the foundation for her photography and approach to life.
"I remember when I had my first exhibition in Toronto, and some radio station phoned and said, "Oh, I understand you didn't start your photography until you were in your late 50s." Well, that wasn't quite right, because my father and grandfather were both serious amateur photographers. And so I was kind of brought up in the dark room with my dad."
- Thelma Pepper
Thelma's grandfather Seward was another strong influence in her. Seward was a very successful lumberman in the early 1920s.  He was a self-made man with only grade 8 education but could talk intelligently to anyone. Known as S.S., he was so successful in everything he undertook. Seward's success in the lumbering business was due to hiring good men, having strong discipline, being extremely honest, having Thelma's Dad as an excellent bookkeeper, and having a passion for his work. He had great self-respect and wanted to be recognized as someone always in the forefront. He was the first in the valley to get anything new, like a car or camera.  He loved taking pictures to document his life. Grandmother Alalia was a wonderful companion for Grandpa Seward. Her expertise with a gun and fishing rod was known throughout the Annapolis Valley. Many times she would be the only woman in a sports group but her skills in these areas brought her unquestioned acceptance.  S.S. really enjoyed taking photographs of the people and places around Kingston to document activities of the day.  He loved sharing his photographs with his family and the community. S.S. always said that "there is something good in everyone."  S.S. loved his life and I think this gave him great energy and a desire to help others.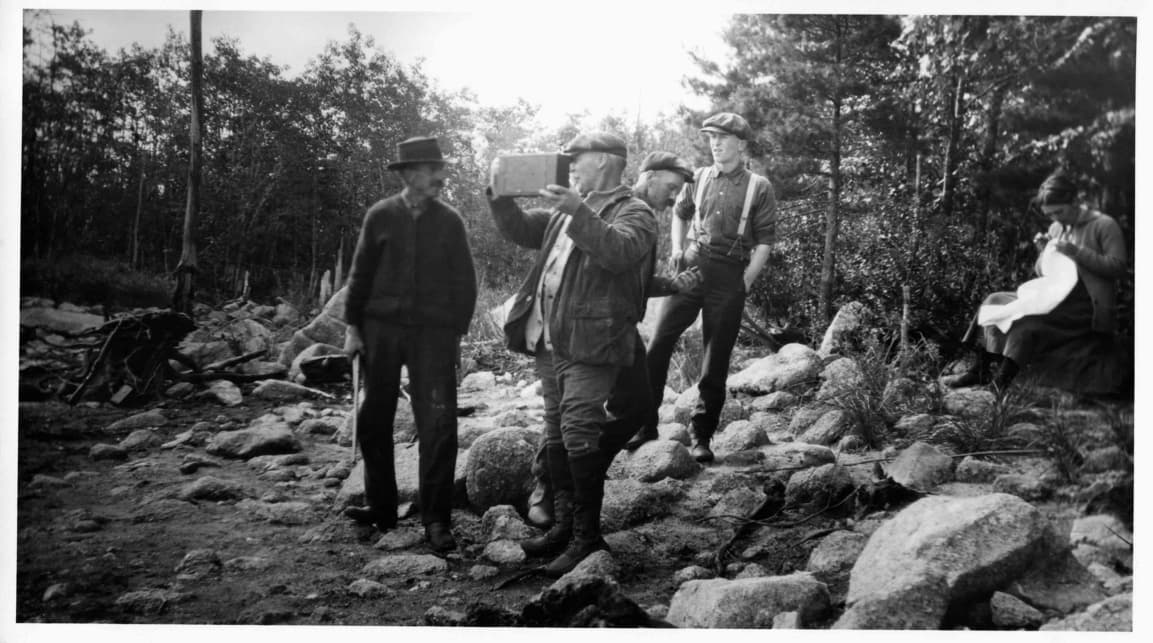 Some of Thelma's most pleasant memories of early childhood were the car outings she and her brothers and sisters took with her Mom and Dad. Loaded with camera equipment and a picnic lunch the family would visit historical sites, roam the meadows and orchards of Annapolis River, hike into the alpine woods or take a trip to the seashore. Always a special trip was to the Grand Pre Historical Park where she learned about the expulsion of the French Canadians or the short drive to Grampa Stevens home overlooking the Nictaux River. His 900 acres of farmland, orchards, meadows and woods was an unforgettable place to spend the afternoon. Sometimes on hot sunny days they would go to Margaretsville on the Bay of Fundy. Their summer cottage was 100 yards back from the steep, rocky cliffs of the shoreline. In July and August they would walk on the sharp, stony beaches braving the excruciatingly cold water.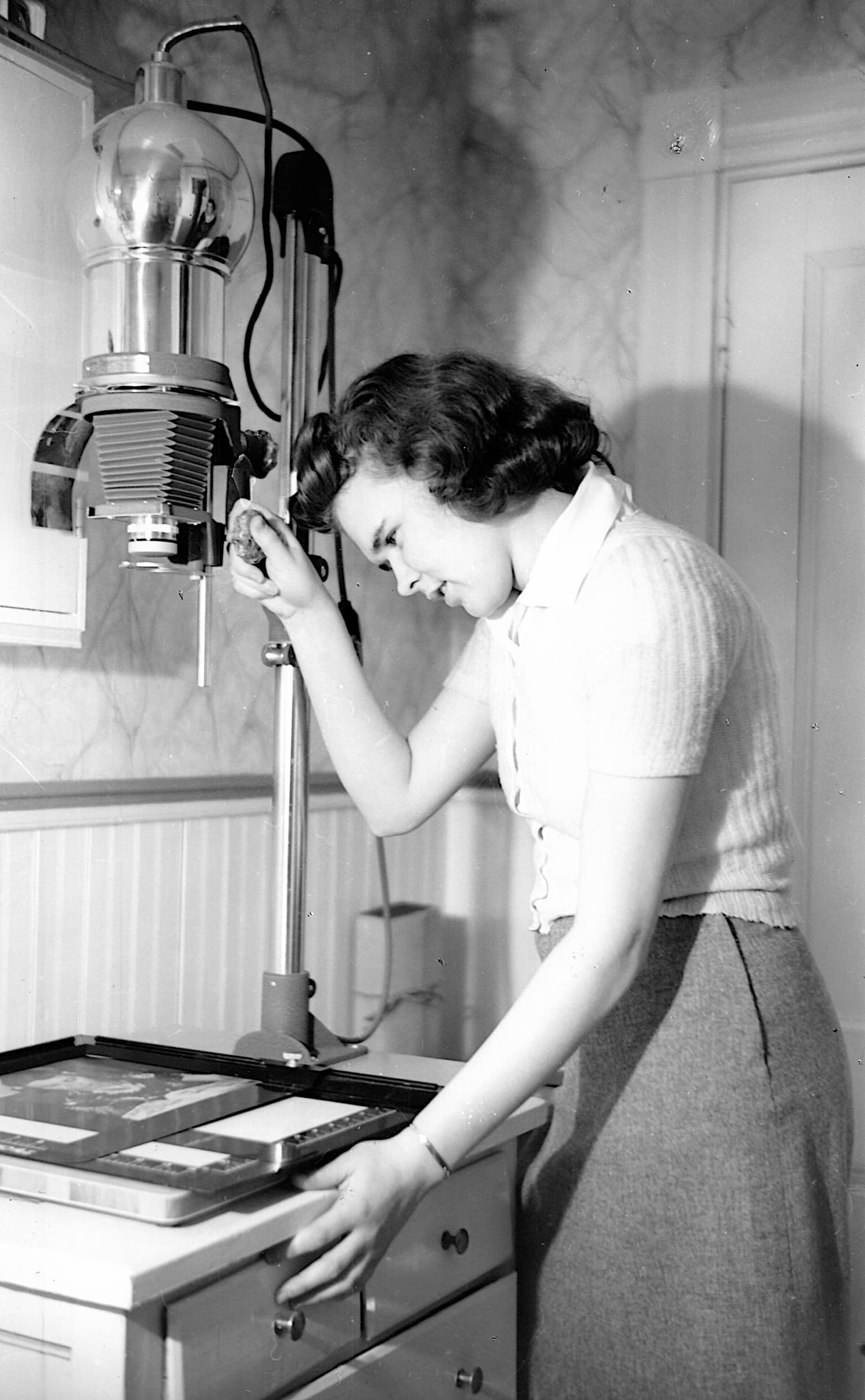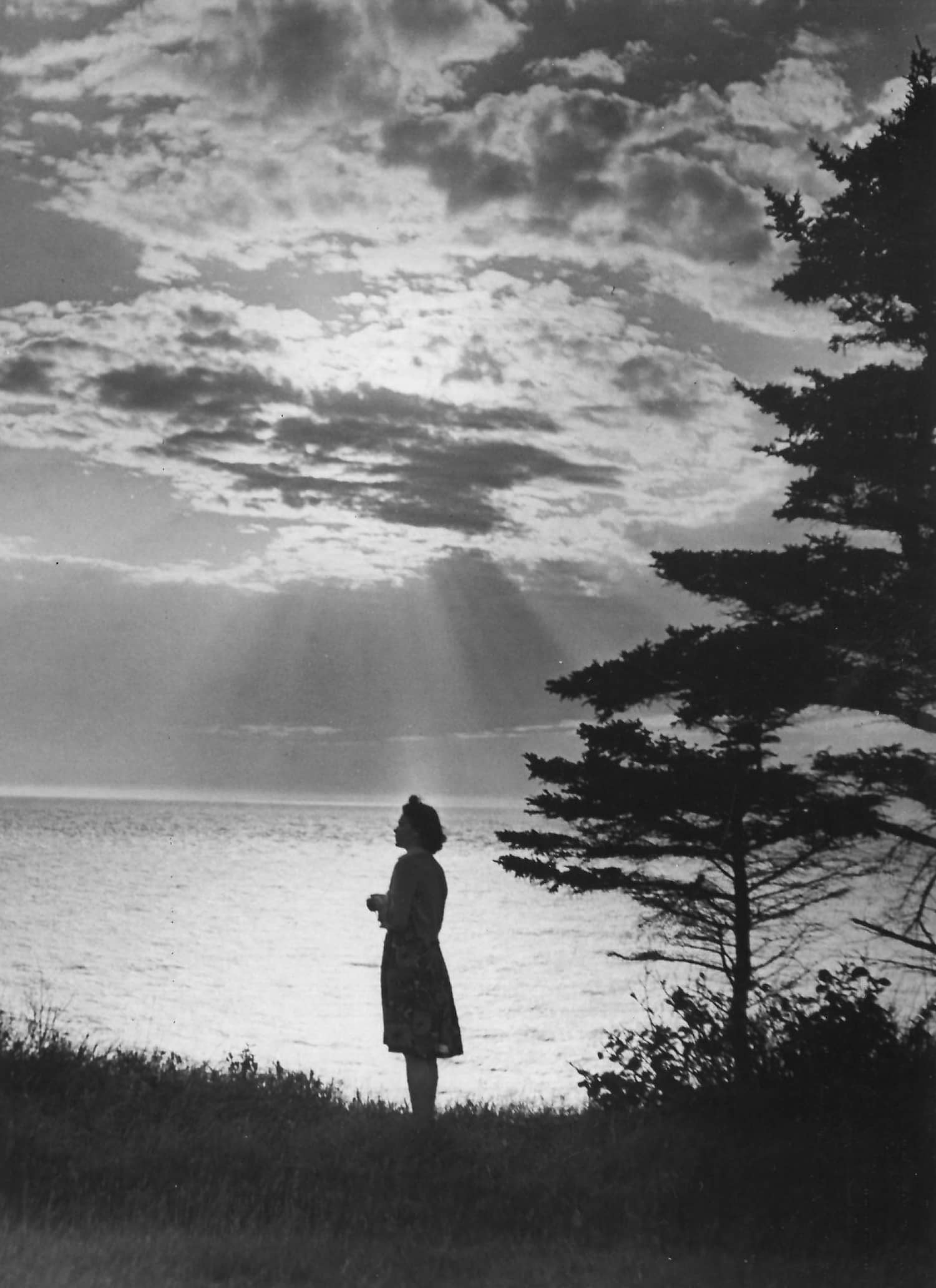 One Day Thelma was surprised to greet the President of Acadia University at her home in Kingston. The president offered Thelma a scholarship to Acadia university after high school graduation. Thelma wanted to study Chemistry at Acadia but at that time Women were not allowed to study Chemistry so she studied Botany and graduated with a B.Sc. in 1941. She also had to learn how to swim because you could not graduate without knowing how to swim!  At Acadia she was billeted with three Americans that talked incessantly of clothes, makeup, and shopping in New York, quite different from Thelma. After a week of school starting, she had a wonderful letter from her Dad assuring her that she could get to like anybody if she really tried.  And he was right.  Thelma's dad made sure she had a camera when she went to Acadia.  Thelma would take photographs of her friends, nothing else. Her Dad would develop and print the photographs and when Thelma gave the prints to her friends, they were very happy!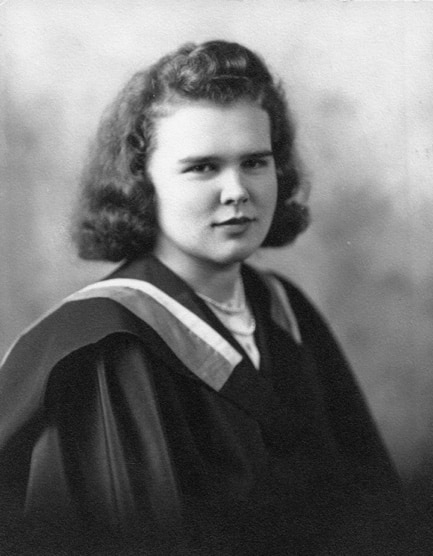 Thelma's Botany professor at Acadia accepted a position in the Botany department at McGill University and offered Thelma a job as a lab instructor at McGill where she studied Botany.  One of her labs was with a group of wood chemists. From the very first day she was attracted to one of them, Jim Pepper. On one of his lab assignments she wrote that he could do better! He did not hold it against her as they were married in 1945 and they spent the next 58 years together. When Thelma returned home for Christmas and summer vacation, she invariably found herself working in her parents' general store. At this time, the house and store were filled with RAF personnel from the nearby Greenwood airfield talking to her Dad about photography and playing their music. Thelma's sister Phyllis, who died of Meningitis at age 21, loved to listened to the music from the airmen. Some weeks Thelma and her Dad would process 200 films and make 2,000 prints. It was very rewarding for Thelma's dad to see the happiness in the faces of the airmen when they received photographs that they could send back home. At McGill Thelma played on the McGill tennis team where she displayed some masterful tennis in the McGill Open's final tournament. Thelma graduated from McGill in 1943 with a M.Sc. in Botany.
After spending two years in Guelph Ontario where Jim worked for the Dominion Rubber Company and Thelma worked for the Ontario Agricultural College, Jim accepted a teaching position at the University of Saskatchewan in Saskatoon. In 1947, with their first child Bob in tow, Jim and Thelma left eastern Canada behind and began a new adventure in Saskatoon.
Saskatchewan (1947 to 2020)
Life on 15th street in Saskatoon in the early 1950s was all about bringing up four children, household chores, supporting Jim at work and visiting extended families. One of the important things Thelma needed to do in supporting Jim was to keep his shirts washed and neatly ironed. One professor's wife said, 'Your husband's white shirts look so beautiful'. Once a year Thelma and Jim would host a staff and graduate student dinner. It was a big job for Thelma to prepare 50 dinners on Friday night followed by 50 dinners the following night. Thelma felt the children benefited from becoming acquainted with people of other races, religions and colour. Two Nobel prize winners in chemistry visited the family house on 15th street.
In 1955 Jim took a sabbatical leave from the University to do research in Gothenburg, Sweden. It was rare for a family to travel overseas at that time and on a ship – the Queen Elizabeth. The children made friends easily and quickly. There seemed to be no language barrier among children. Doctors, lawyers and janitors all lived in the same type of flat and paid the same rent. It was necessary for all girls to choose a career because it was felt that they would feel less dependent and more content. Thelma often wondered what family life would have been like if she had lived in a country like Sweden OR if she had had her family today.
In the 1960s and 1970s, summers were spent at the family cabin near lake Waskesiu. The tiny 15ft by 20ft cabin was hardly enough room for six people. However, for most of the 1960s and early 1970s Thelma and the children read, walked the nature trails, collected flowers, swan in the lake, played golf, fished, picked berries and made pies. The highlight of summer was when the all the children played in the summer ending "Lobstick" golf tournament.
During the 1960's and 1970's Thelma continued her lifelong interest in nature that began in Nova Scotia on the hikes taken with her sisters to her Grandfather's lumber camps. There it was exciting to be in the forest, to smell the trees, to see the birds and to sit by the rambling streams. Birds and flowers made Thelma feel comfortable with the prairies. She met others from the Natural History Society that shared her interest in birds and flowers and nature. She felt accepted and felt she belonged in Saskatchewan as a result. At that time she said to herself she would learn about all the flowers in the Saskatoon area. Two years later she had a collection of 150 professionally mounted flowers with latin name, location and date. The collection was donated to the University of Saskatchewan Biology department and they were amazed at the detail and quality of the collection.
Thelma's focus bringing up her four children was getting the children to read and be active. The joy she received reading to the children knew no bounds. Through her contacts with the Saskatoon Public Library she learned the importance of kids reading good literature between the ages of 9-12. She became the head of the childrens' public school Parent Advisory Council and was instrumental in creating the first public school library in Saskatoon where the children had access to good books all the time. Thelma and Jim believed strongly that belonging to teams was a good life foundation and they tried to find an activity in which each child excelled, as they believed this resulted in a feeling of self-confidence.  Those activities seemed to be basketball and golf.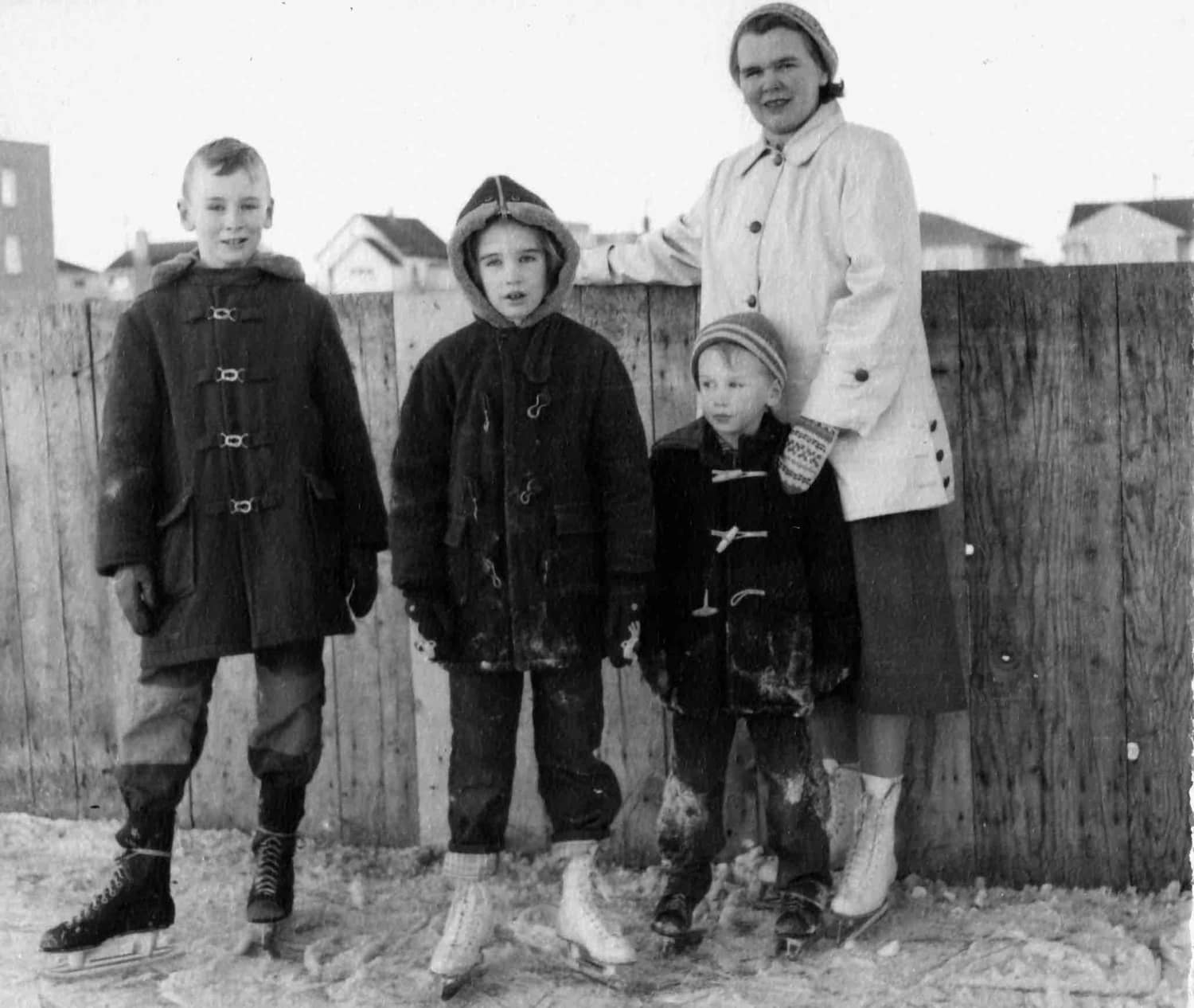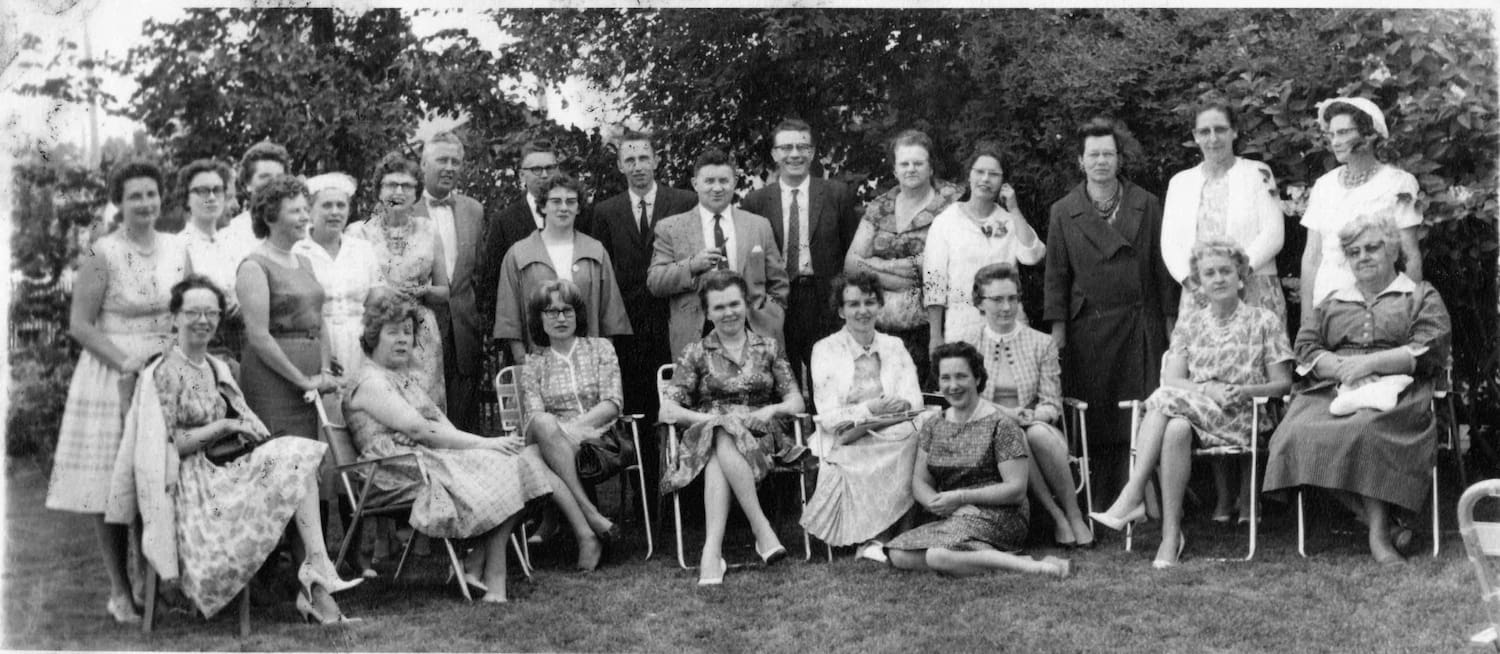 In the early 1980s when all her children had left home, Thelma went into a depression. Her research on depression indicated that it was caused by not believing in yourself. She had to find something that made her feel good about herself. She joined the Saskatoon Camera club and started to build on the knowledge of photography she gained from working with her Dad in the family darkroom in Kingston. She won many "Prints of the Month" at the camera club but she craved a more creative outlet. With great trepidation she joined the Saskatoon Photographers Gallery at age 60. She wondered what they would think of someone her age wanting to learn about photography. They accepted her and gave her excellent feedback and advice. During a photography workshop the well-known Photographer Sam Tata glanced at a few of her portraits and said:
"I see no tension here in their faces, look at those hands, that face. You should have an exhibition of your work."
It brought tears to Thelma's eyes. It was the beginning of a new life for Thelma. That one experience, of someone believing in her own creative work, launched Thelma on a new personal journey.  From that day forward, an energy and focus was released within Thelma that allowed her to accomplish things she never dreamed possible. Thelma began a new life at age 60.
"I have always liked the thought that when we share our life story, the telling of that story has a distinct therapeutic effect. It was my goal to capture that real personality (and happiness) in my photography and share it with the individual, to make them happy. All ordinary people become special when they speak honestly from the heart. People often say to me "there is nothing important about me" but there is always something important about everyone. Telling the story of your life enriches your sense of (yourself and) what is possible."
- Thelma Pepper
In My Father's Time (early 1980s)
When her sister sent her all the negatives of her father's and grandfather's photographs, she began printing all the negatives. She wanted the prints to be as good as the negatives and to tell the stories of her Kingson, N.S. family that she was so proud of. She recalls working in her darkroom till 2AM and Jim asking her when she was coming to bed and she would answer "oh, I got to make a better print". A showing of all the photographs was held in Nova Scotia in 1986 with tremendous interest and success.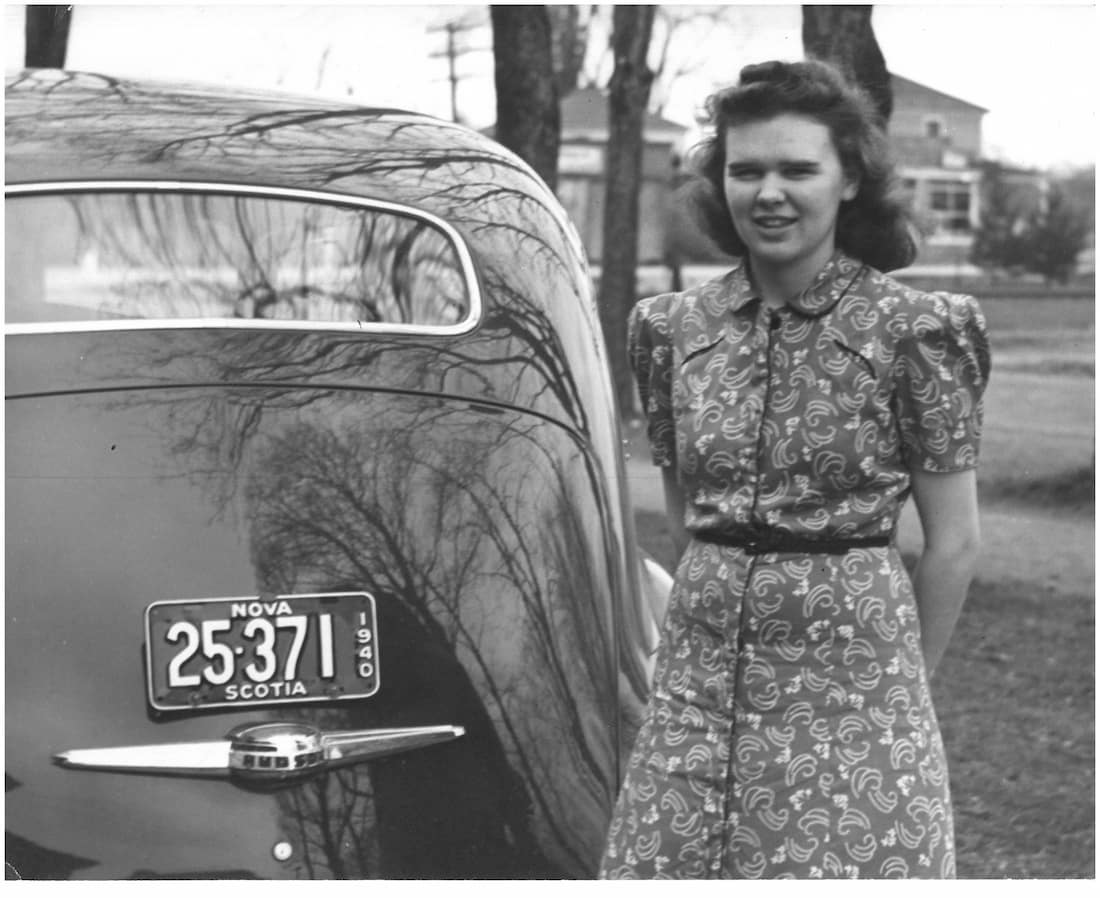 Decades of Voices (1980s)
During this time she continued her interest in reading by reading pioneer stories to residents of a long-term care home. It wasn't long before the reverse was happening. They started telling Thelma their incredible stories – stories of early life on the prairies, poverty, hardships and loneliness. Telling their life stories made them feel good about themselves. Wonderful expressions came over their faces. It was a natural thing for Thelma, who had been keenly interested in the human spirit from an early age, to want to capture these feelings of pride, strength, commitment, and kindness in a photograph. Thelma's first major solo photography exhibition was called "Decades of Voices" and the images included both portraits and panoramas of where the women came from, as well as recordings of conversations held with the residents. The portraits depicted the inner qualities of the women, their character, dignity and strength of human spirit.  The exhibition toured from 1990 to 1995 across Saskatchewan, Canada and to Scotland and was extremely well received.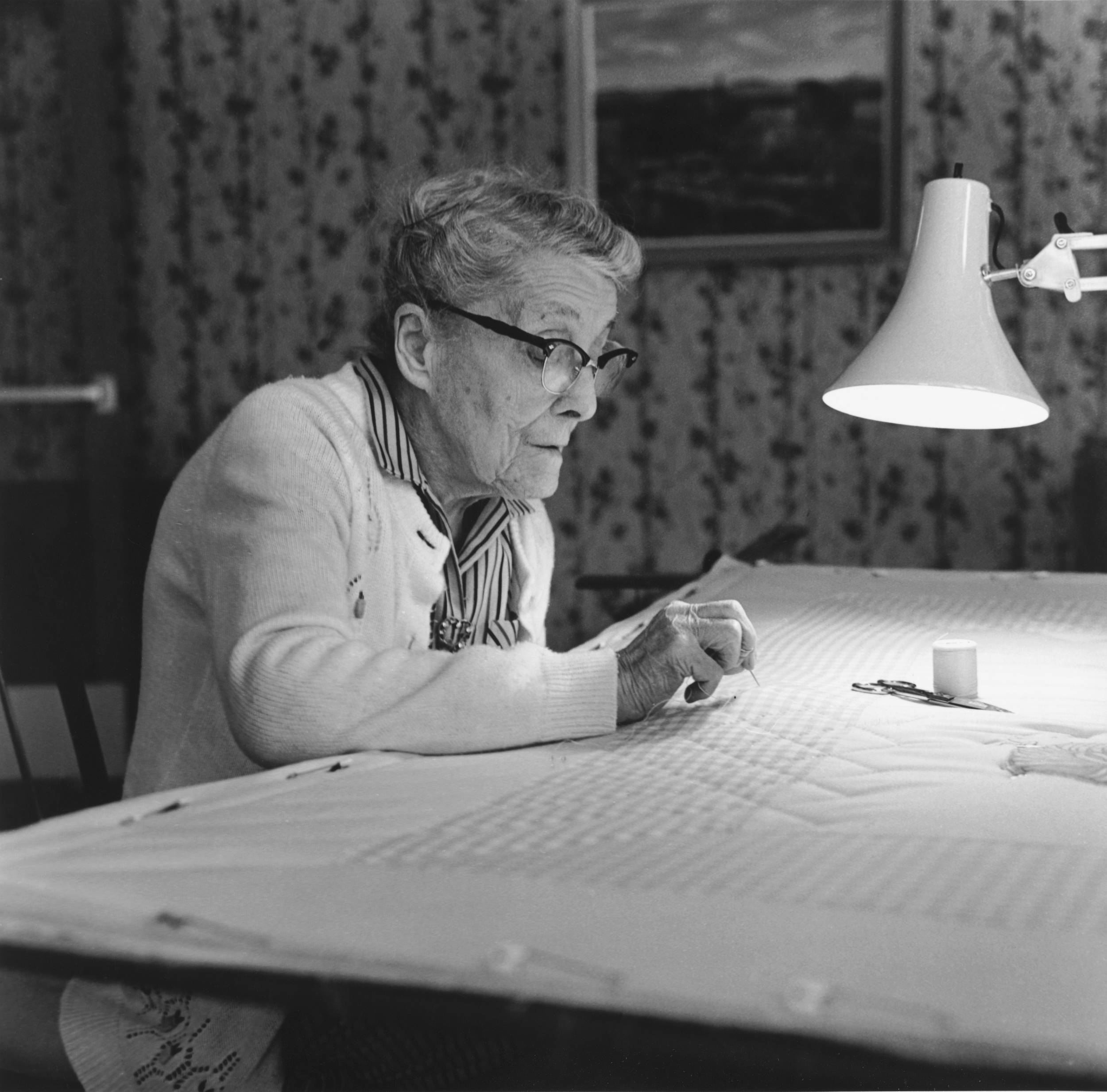 Spaces of Belonging: A Journey Along Highway 41 (1990s)
One day Thelma found a book that showed the location of different ethnic groups living in Saskatchewan. She was amazed to see 40 different ethnic groups living in the areas along Hwy 41, north-east of Saskatoon. She was interested in understanding how this diverse ethnicity might affect people growing up there. Over much of a ten-year period she and Jim made hundreds of car trips to the area. They found people with a sense of belonging, with deep spiritual value and strong social and community ties. They worked very hard and did what had to be done and didn't think about it more than that. Hardships, sickness, and blizzards brought people of different ethnic groups speaking many different languages closer together. Thelma wanted to honour these ordinary people of Saskatchewan, particularly the women, who carried much of the responsibility of the day-to-day survival of the family. They had the pioneer qualities of a desire to help people, courage, kindness, unselfishness, love and commitment. Thelma was moved by a sense of mysterious power of this part of the Prairies and felt strongly that if you understand the people you understand the province. The Hwy 41 photography exhibition was a collection of photographs of the people Thelma met and the places she visited along the highway. The exhibition tried to capture the cultural and religious diversity of the area and the hard-working character of the people who lived and worked there.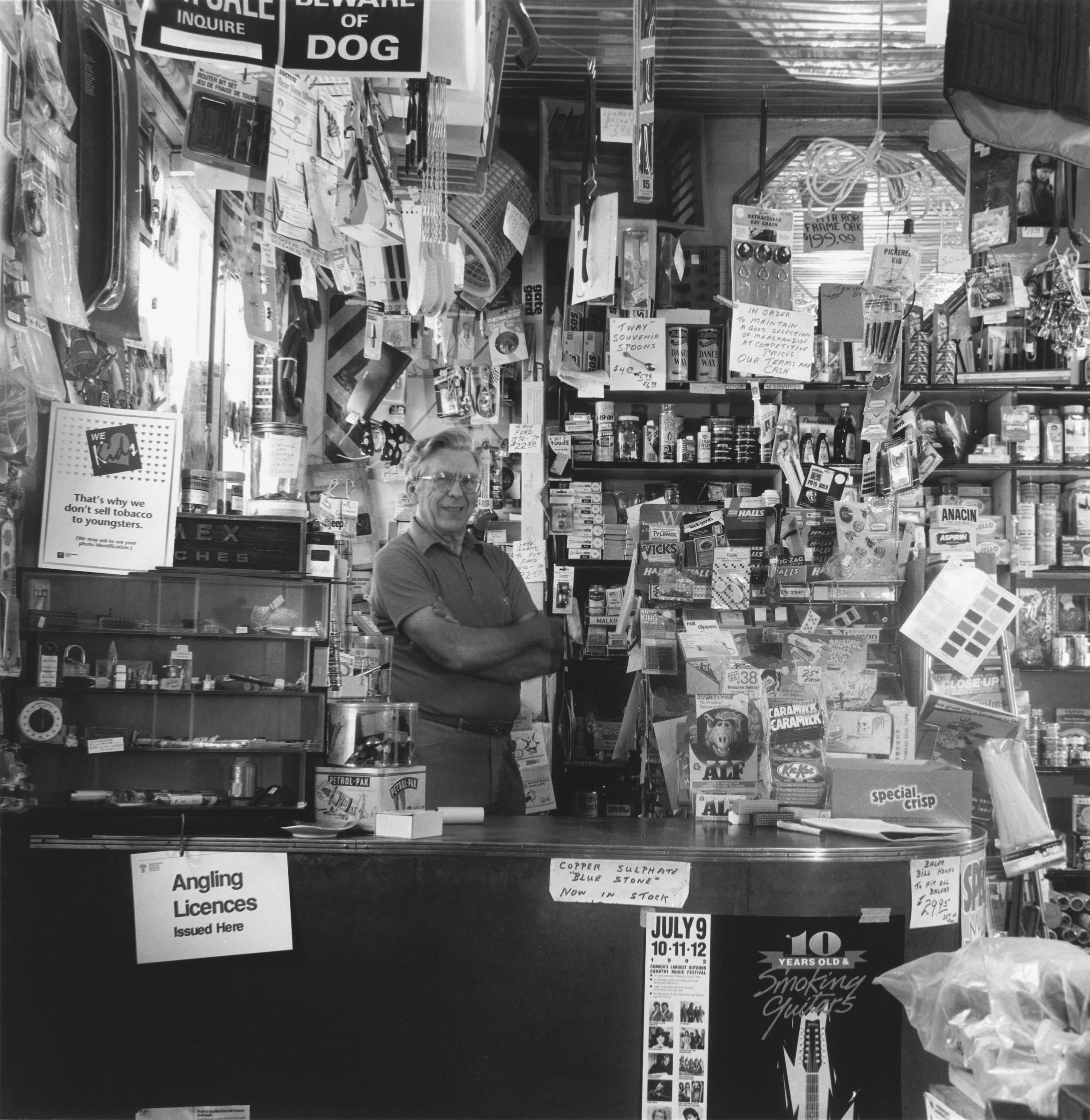 Untie the Spirit (2000s)
Beginning in the early 1990s Thelma began to notice signs of Jim's dementia that the doctors had diagnosed. When the dementia started to hit Jim, he went into a depression. At home, he would often just cry out. It hurt Thelma horribly to see him this way. Thelma tried very hard to find something that he could get interested in to get him out of this depression. The only comfort he found, more than any drug, was in hooking rugs. It reaffirmed for Thelma the power and importance of creativity in one's life. Thelma utilized various "day cares" for eight years. She tried Sherbrooke's Community Centre and they felt Thelma could not take care of him any longer and he stayed. Thelma liked the Sherbrooke care facility from the first time she took Jim there. Something was different. The staff was different, they had time for her and Jim. Sherbrooke had recently adopted a new approach in the treatment of the elderly called the Eden Alternative. Its key approach was that providing plants, pets, children, and companionship made the residents feel at home and this was the best way for treating the elderly. It wasn't too long after Jim settled in at Sherbrooke Thelma began thinking about Photographing the residents in order to capture the dignity and human spirit that the Eden Alternative was able to bring out in the residents. It wasn't too long beforeher resident photographs were on the walls at Sherbrooke representing the effectiveness of the Eden Alternative and in 2006 a major exhibition of her work was displayed.  Sherbrooke wanted Thelma to go to Colorado and give a talk on the Eden Alternative but she couldn't leave Jim. Over the three years that Jim was at Sherbrooke, she did not miss one day where she was not up visiting and having a meal with him. She felt it was the right thing to do. In 2017 Sherbrooke was voted the best long-term care home in the world.
"A couple of years ago, I needed to decide on a photograph to put in a juried exhibition. And so my son was here, I said "Gord, which ones should I use?" and he walked away. And I was kind of mad. And so I said, okay, I'll do it myself. And do you know, from then on, for the first time in my life I believed in myself. So that's what he did for me. He knew that that's what I needed."
- Thelma Pepper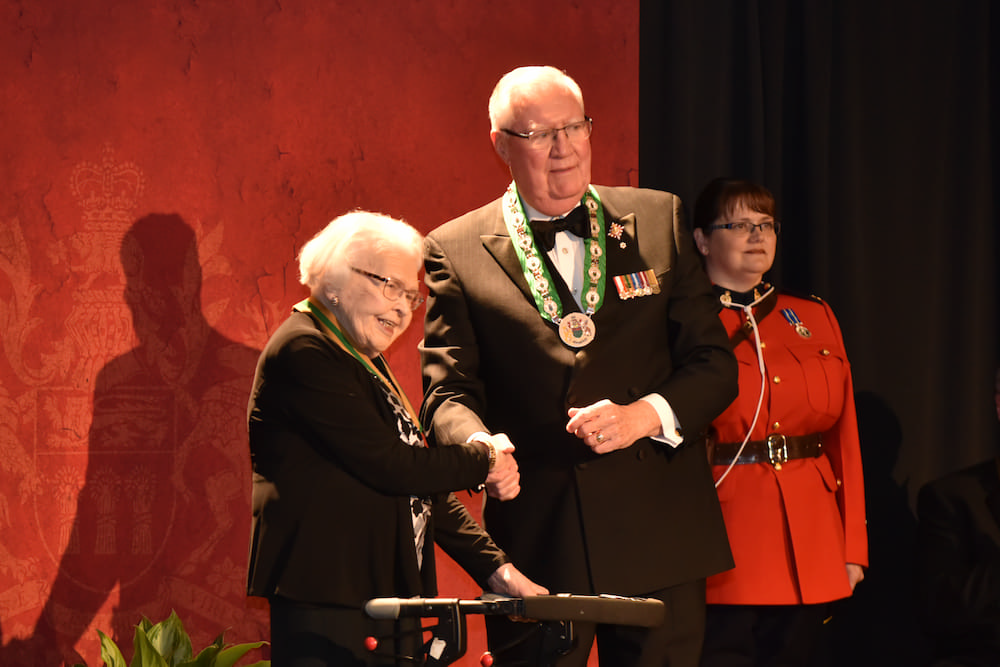 In 2013, at the age of 93 Thelma had a heart attack while preparing for an exhibition of her work. The Doctors recommended open heart surgery because, other than her heart, she was in excellent condition both physically and mentally. Despite being in such good shape, her rehabilitation was a challenge, first with pneumonia and then another depression. At age of 95 Thelma moved into Amy McClure house still fighting depression. The thing that brought her out of depression was her never-faded interest in reading, mostly biographies, where she became fascinated by how others approached the world around them. Before long she had finished biographies on Lincoln, Gandhi and Dickens. Now fully out of her depression she was determined to keep her mind sharp by walking and systematically recording her times, memorizing the names and logos of car companies and sports teams, and having lengthy discussions with everyone she met about politics, economics and philosophy! Her detailed memory of her life's events was uncanny and was with her until she passed.
Thelma was the recipient of much recognition and many awards for her photography including the Saskatchewan Arts Board Lifetime Achievement Award in 2015 and the Saskatchewan Order of Merit in 2017. "Thelma  - A life in Pictures" written by Amy Jo Ehman was released in 2020 and documented in photographs the incredible life story of Thelma. Unfortunately, and so very sad, Thelma passed in Dec. 2020, at age 100, just before a major retrospective of her life's work opened at the Remai Modern Art Gallery in 2021.
Thelma Pepper Quotes
Philosophy on Life
"My favourite time of the day was 5:00 a.m. as my mind was so active then. How pleasant the memories of the first days of spring when my children had all left home and I had all day to myself! I could find a spot miles and miles from any human being, usually beside a slough, where I would wait with my 500 mm lens. What perfect peace for me. I felt I could stay there all day but I knew there was another large slough just ahead and another and another. Each had its own beauty. I had all day, I would say to myself, to be by myself. Sometimes I would leave the car and wander to a popular bluff to explore the virgin land with its large rocks. It was not unusual to find the most delicate of flowers. Not many people can find beauty here, but I can."
"If you can find something you love, wow, you're off to the races."
"I think that as you get older and particularly after you retire from a career with a focus on other things and not yourself, there is a unique opportunity to be truly happy. If you can find something you truly have a passion for, and actively pursue that passion, an amazing transformation happens. Being creative, in whatever that entails, I think, is the driving factor behind finding this passion and this new energy that allows you to do things you never thought possible. Maybe this is a time that allows you to free-up your thoughts and desires, or maybe it is a unique time in your brain's development—I don't know. What I do know is that it was a powerful and amazing transformation for me. The key was finding something I had a true passion for. It may take time and you may have to work hard at finding this passion, but the effort is more than worth it. When my personal photography was accepted for exhibition, I completely changed my attitude in a positive way. I became confident in myself. I felt I could confront and manage everything. Making a speech in front of hundreds of people was no longer a worry. I looked forward to it. And this change of attitude enabled me to generate four major photography exhibitions, without even realizing I was working!......Nothing can replace the journey I took! Doing it was so much fun."
"One of my most vivid early memories of the Photographers Gallery was showing some of my early portrait work to one of Canada's best-known photographers from Montreal, Sam Tata. I remember so clearly standing in line with a number of other, much younger, photographers waiting to show their work to Mr. Tata. I remember being very tense, my heart pounding, my hands clammy, and my knees shaking. He was well-known internationally for his use of natural light in the homes of his subjects. He felt it made them feel more at-ease and thus their true personalities would be more fully evoked by their posing amidst their personal possessions. His portraits also emphasized the importance of getting to know the person you are photographing before the actual session; of having and knowing the moment when he or she is in an animated conversation. A portrait taken at this time is a mirror of the real person. Although I don't really know if I realized it at the time, but this was exactly what I thought as well, and it was something I had been trying to do with the images I had taken of the residents of Lutheran Sunset Home in Saskatoon. "I don't see anything here." I heard Sam Tata's voice, loud and clear, as he critiqued the work of a young chap whose photographs had been shown recently at the Photographers Gallery in Saskatoon where Sam Tata had given a workshop. My turn was next. I was expecting the worst. The other photographers were in their 20s. I was over 60 years old. What would he say? Tata glanced at 3 to 4 of my portraits and the first words I heard were: "I see no tension here in their faces. You should have an exhibition of your work. Look at those hands! That face!" There were tears in my eyes! I could barely speak to him. My photographs had been accepted by Sam Tata. This was my personal work, not my husband's, and not influenced by anyone except my own ideas and creative process. It was incredibly moving and powerful for me to have this recognized by a person of such acclaim. It was indeed the beginning of a new life for me, and I felt like a million dollars."
On Photography
"I was captivated by the personal stories of these pioneer women, who endured such hardships, loneliness, and homesickness when they first came to Saskatchewan. They loved to talk about their lives—their challenges and their passions. You could not help but be impressed with their strength and determination. Going from listening to their stories to trying to capture their personality in a photograph was a natural progression for me. I wanted to capture the exact expression in the resident's face that showed the inner character of that person, their strength, dignity but above all their courage. This type of photography was not something I had ever planned to do. It just happened, and boy, did I enjoy it! Reflecting on this time now, I think this situation brought together, amazingly, my key life interests and abilities. I loved to read, I loved the history of areas, I loved to see other people happy, and I loved to print pictures. It was a pleasure for me and rewarding to see the happiness in their faces when I showed them what I had done. I often heard them say things like 'I never told this to anybody, but I don't mind telling you', or 'I never liked a picture of myself, but somehow this one pleases me,' and 'Could you make eight of these for me? I'd like to give one to each of my children for Christmas.'"
"The more I listened to these pioneer women, the more I came to realize that they were not lonely because they felt they belonged in their community, and that someone only gets lonely if they feel they do not belong. One of Nellie's favourite sayings was "There is a divine spark in everyone, no one is without it."
"All ordinary people become special when they speak honestly from the heart. People often say to me "there is nothing important about me" but there is always something important about everyone. Telling the story of your life enriches your sense of what is possible and it becomes your life."